Leicester are playing with an energy and intensity that can catch bigger teams out Getty


Far away from the KingPower Stadium, and an occasion that manager Craig Shakespeare was describing as up there with any in Leicester City's history, a more sedate Gigi Buffon was asked who he wouldn't want to get in Friday's Champions League quarter-final draw. His answer, having just kept yet another cleansheet in Juventus' 1-0 win over Porto, was almost as surprising as Leicester's 2-0 win over Sevilla.
"I want to avoid Leicester," Buffon said. "They have enthusiasm and passion."
They might also have that rare kind of cup momentum that the Italian great has clearly recognised, that sense of defiant belief that comes from extreme circumstances and ever-more impressive results. If all of that sounds rather esoteric and intangible, it has had gloriously tangible results in this competition. Aston Villa 1982 and Chelsea 2012 found themselves in similar situations, successful teams struggling in the league and eventually deciding to sack their manager just before the post-Christmas European fixtures got really serious, only to then go and win the competition.
The question that will grow ever more serious in the next weeks is whether Shakespeare can go on to emulate Villa's Tony Barton and Chelsea's Roberto Di Matteo to do the same.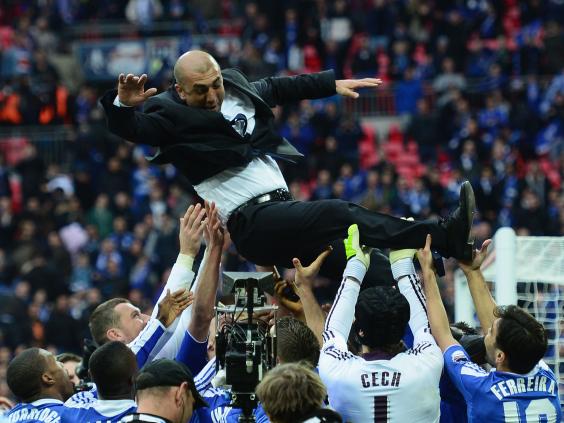 Roberto Di Matteo memorably won Chelsea's first-ever European Cup (2012 Getty Images)
And, if that sounds fanciful after a mere last-16 win - especially given those victories were born of either a very different side or a very different type of squad - you only have to consider the nature of their elimination of Sevilla.
Both Villa and - especially - Chelsea had similar ties, where they probably should have been well beaten and effectively knocked out in the first leg, only to hang in there, ride their luck and then roared back in the second leg to really catch the opposition out. That is precisely what happened against Sevilla.
Jorge Sampaoli's team should really have been out of sight from the first leg in the Sanchez Pizjuan. They were so much the better team, and had so many chances. A 5-0 or 6-0 win would not have been unfair. They couldn't score that many, only managing two, but Leicester did get a late away goal through Jamie Vardy.
It was the first of a few key moments that gradually but completely altered the mood of the tie, and the mood of the Leicester City team. Next, and of course most notably, Claudio Ranieri was sacked. For all the raging debate about the fairness and ethics of that decision and the circ
So, by the time that the second leg kicked off, all had changed. Leicester had that cup momentum. There should have been no broader logic to think they could win. Sevilla, after all, had the better team, the superior pedigree, the far more successful manager. A fair conclusion from all of that would have been that, if Sevilla just played their normal game, they would go through.
But they were no longer able to, and this was no longer a "normal" game. It was a rarefied and unique European night where Leicester were suddenly performing to an intensity that Sevilla didn't expect.
The exact same happened in 1982 with Villa against Dynamo Kyiv, Anderlecht and Bayern Munich and then in 2012 with Chelsea against Napoli, Barcelona and - yes - Bayern again.
The logic had been upended again, and Leicester's tie with Sevilla was the ultimate proof and case study that you can never really bank on anything in a knock-out competition, even one as economically conditioned to such an extreme degree as the Champions League.
Indeed, the nature of the event itself helped upend that logic. Fully charged, Leicester became a fully functioning team again, and were once more doing all the simple aspects of the game with an enviable intensity. It is a potent combination, and one Sevilla were not prepared for.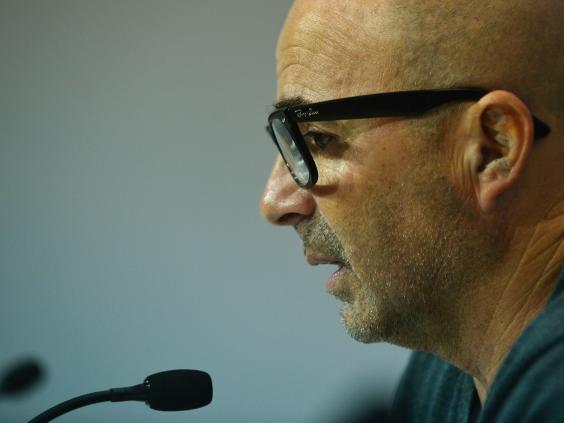 Jorge Sampaoli's Sevilla were caught out by Leicester's intensity (Getty)
The question now is whether better sides, and those that demand even better rates of possession, will play into Leicester's feet in the same way. Perhaps this was one big reason behind Shakespeare's assertion that they didn't care who they got in the quarter-finals, because the bigger the better.
What price he really follow Barton and Di Matteo, and Leicester end up in a final against Bayern Munich? It only takes two good performances and two games where luck goes your way, and that is far from an impossible return across a mere four games, when everything is also electrified.
Sure, we should still not get ahead of ourselves. Logic still suggests that, against sides with superior individual quality than Sevilla, someone like Cristiano Ronaldo or Leo Messi will just bludgeon their way through Leicester with brilliance.
Leicester, however, already got further than anyone expected - and certainly further than anyone expected with 70 minutes of the first leg gone.
It's a knock-out competition. It can never be ruled out.